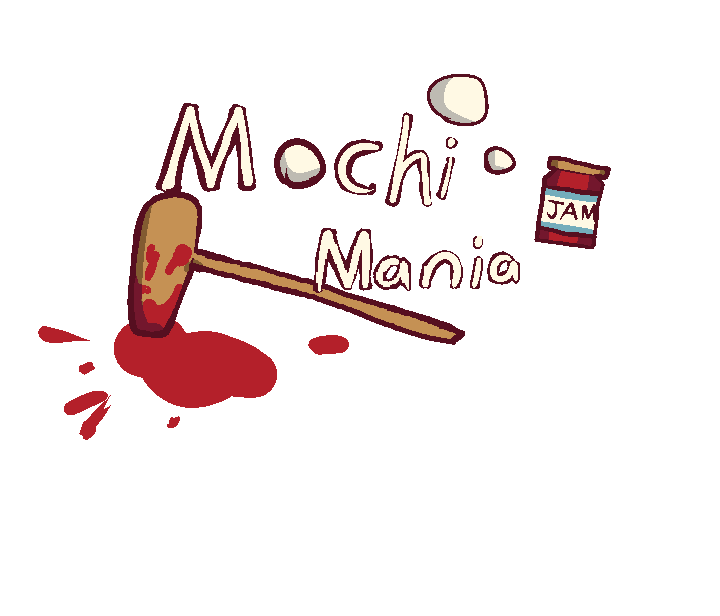 Mochi Mania
A downloadable Touhou game for Windows, macOS, and Linux

A Touhou fan game about Seiran made for the 2022 Touhou Station game jam. Mochi Mania is a breakout game inspired by Touhou Reiiden (Wondrous Tale) ~ The Highly Responsive to Prayers and Lethal League.

Seiran and Ringo, having set aside their differences in the name of mutual prosperity, have finally scraped together enough savings to open a proper bakery of their own, after arduous years of work.
Only problem is, as soon as they open up their orders, a certain gluttonous ghost orders one hundred jelly doughnuts. Worse yet, as soon as Ringo has gathered the ingredients, a legion of fairies arrive and steal away all of the jelly.
Ringo, being downtrodden that all of her days of effort have been undone, is in no mindset to act. It's up to Seiran to grab her mallet and reclaim their lost jelly.
Defeat fairies and clear stages by attacking a ball of mochi with Seiran's mallet. Sending the mochi towards cards and fairies will clear them off the screen. Clear every item off the screen to progress. Be careful as being struck by the mochi while it is bouncing outside of your control (indicated by not having a red or green aura) will kill Seiran.


Seiran can collect money from gold cards that can be used to purchase items from a shop between stages.



| | | |
| --- | --- | --- |
| Controls | Keyboard | Controller (Xbox) |
| Movement | Arrow Keys | Joystick or DPad |
| Jump | Z | X or Y |
| Attack | X | A |
| Bunt | C | B |
| Pause | Esc | Start |
| Fullscreen toggle | Alt+Enter | |
* You can aim your attacks by holding up or down
Credits:

Programming: EasternMouse
Composition: Eulogous
Director: Einhope
Writing and dialogue: Einhope
Spriting: Rioku, Eulogous
Animation: Rioku
Portrait art: Einhope
CG art: Einhope, Aqwa
BG art: Rioku, Karine, Einhope
Level design: EasternMouse
UI design: Easternmouse, Karine, Eulogous
Aqwa: Twitter
EasternMouse: Twitter|Itch
Einhope:Twitter
Eulogous: Twitter
Rioku: Twitter| Itch
Karine: Twitter


This is a Touhou Project fan work. The Touhou Project belongs to Team Shanghai Alice.

Install instructions
Extract the zip to any empty folder on and run the executable to play.

Mac users, if system asks, need to allow "Disable Library Verification" entitlement to run Native Bullets plugin